A Light in the Darkness
I know what it's like to feel down on New Year's Day, so I made a (very) short Visual Novel about appreciating what we have, and the power of gratitude in overcoming dark thoughts. The game is a conversation with your "Inner Light", and talks about how to see the good in your life (regardless of the darkness!).
A Light in the Darkness was made in 2 days, and it's just something that I felt I wanted to make this weekend. It's my first time writing something like this, and it's very, very simple, but I hope someone finds it at least a little bit uplifting. And, of course, I wish everyone a fantastic 2018! =D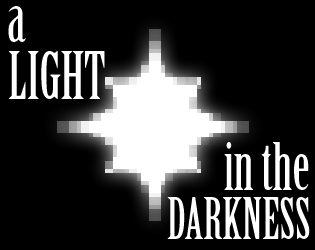 Credits

Created and written by Joshua Hallaran.
Developed in RPG Maker MV, which is the property of Enterbrain and Degica.
Assets sourced from Opengameart.org:
Another August - Music from The Cynic Project / cynicmusic.com / pixelsphere.org
Sparkles Animation - © 2005-2013 Julien Jorge <julien.jorge@stuff-o-matic.com>